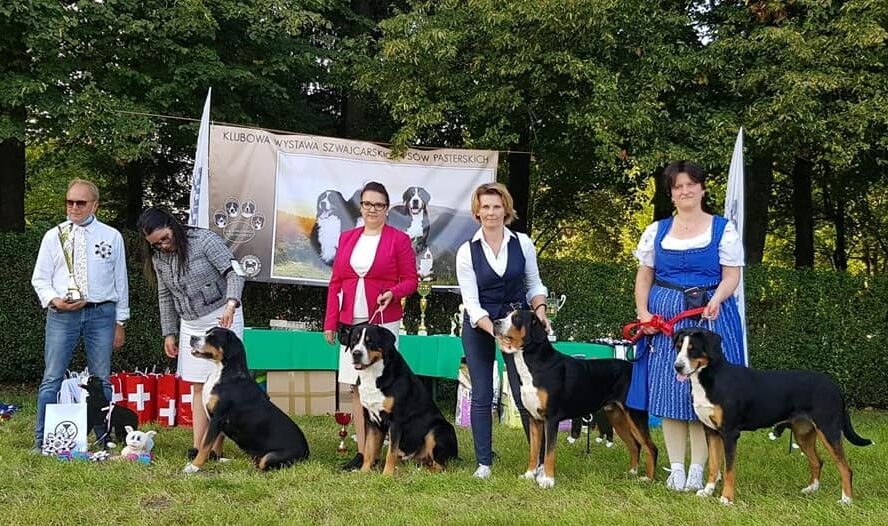 20 | 09 | 2020
Cassiopeia Club Winner, Alfa Junior Club Winner and Junior Polish Champion
We've just finished extremely successful dog shows in Slupsk (PL) – National Dog Show & XXVII Swiss Cattle Dogs' Club Show.
After weeks of preparations (as Helvetian Star prepared more than 100 rosettes for all participants of Club Show) and three hours of drive we arrived to Slupsk. We again had a chance to test our camper that gave comfortable & pleasant ride to our entire herd.
The day commenced with national show, attended only by Alfa Centauri. Oh, yes she attended it well winning Best Junior & Youth Winner titles.
In the afternoon it was followed by Swiss Club Show  under the auspices of Embassy of Switzerland. Club Shows are Crème de la crème for Swiss dogs lovers. This year it gathered more than 60 dogs from 4 Swiss breeds.
In Champion class our Mailo, in spite of excellent note from Swedish judge, placed second, whereas the results of our girls were outstanding!
Alfa initially lacked willingness to show teeth to the judge, but eventually received excellent note and title of Junior Club Winner. The same time she fulfilled all conditions to receive the title of Junior Champion of Poland.
Cassi though completely enchanted the judge who granted her the title of Breed Winner (BOB) and Club Winner  in  season 2020/2021. The cherry on the cake was 2nd place for Cassi in final competition for Best Adult Dog of the Show (BIS 2).
Back